The Carbon Experience
Carbon opened two weeks ago, located on the upper levels of the Icon House in Airport City, completing three levels of the Yolo Experience. (Coco Lounge, Urban Grill and now Carbon).
The DNA of the club is theatrical entertainment and the Carbon night- life concept crafted by a curated group of the world's most talented designers, artists and performers. Guests should expect to encounter the unexpected, and experience nightlife as never before at the most deca- dent destination for global style-setters
As someone who doesn't hit the club as often as others do, this is definitely one I would return to. Something about elevators opening up into rooms as opposed to hallways. The ride up detached me from the reality below, opening up to the "new world".
As you exit the elevator the extensive silver mirror greets you, combining with the extremely cool air, I smiled as I thought, "Winter is here!"
The space was massive. To the left, People were sitting, enjoying their drinks as bus boys and waitresses buzzed around them. This lounge area had it's own designated bar so no need to go far for a drink. The outside terrace oozed urban jungle, with floor to ceiling foliage, outdoor sofas, swings and a fire feature.
To the right another bar serviced the main dance floor. This side of the club had a bold interior, adorned with mirrors, brass detailing and rich velvet lounges. It was heavy, with a lot more activity.
The room was throbbing. People were up, dancing, wilding out, having a good time. Drinks on trays and in buckets zipped every way ending up on tables and in expectant hands. Whenever a table ordered bottle service, a team of feather girls; theatrical characters dressed in shimmering rompers with bird head gear delivered these drinks with sparklers in hand. A frequent occurence.
I had a better view of the ceiling from this side; my favorite part of the night club. Covered with strips of LED lights constantly changing colour and shape like they were moving to the beat of the music. This mesmerising lighting design was created by Dave Perry, famous for his work done at the Glastonbury Festival.
Enter the fire dancers who turn up the heat real high! An energetic group of professional dancers who breathe, manipulate, tease and light up with fire. Stare at them long enough while they dance and you just might get stuck in a trance. This is Carbon.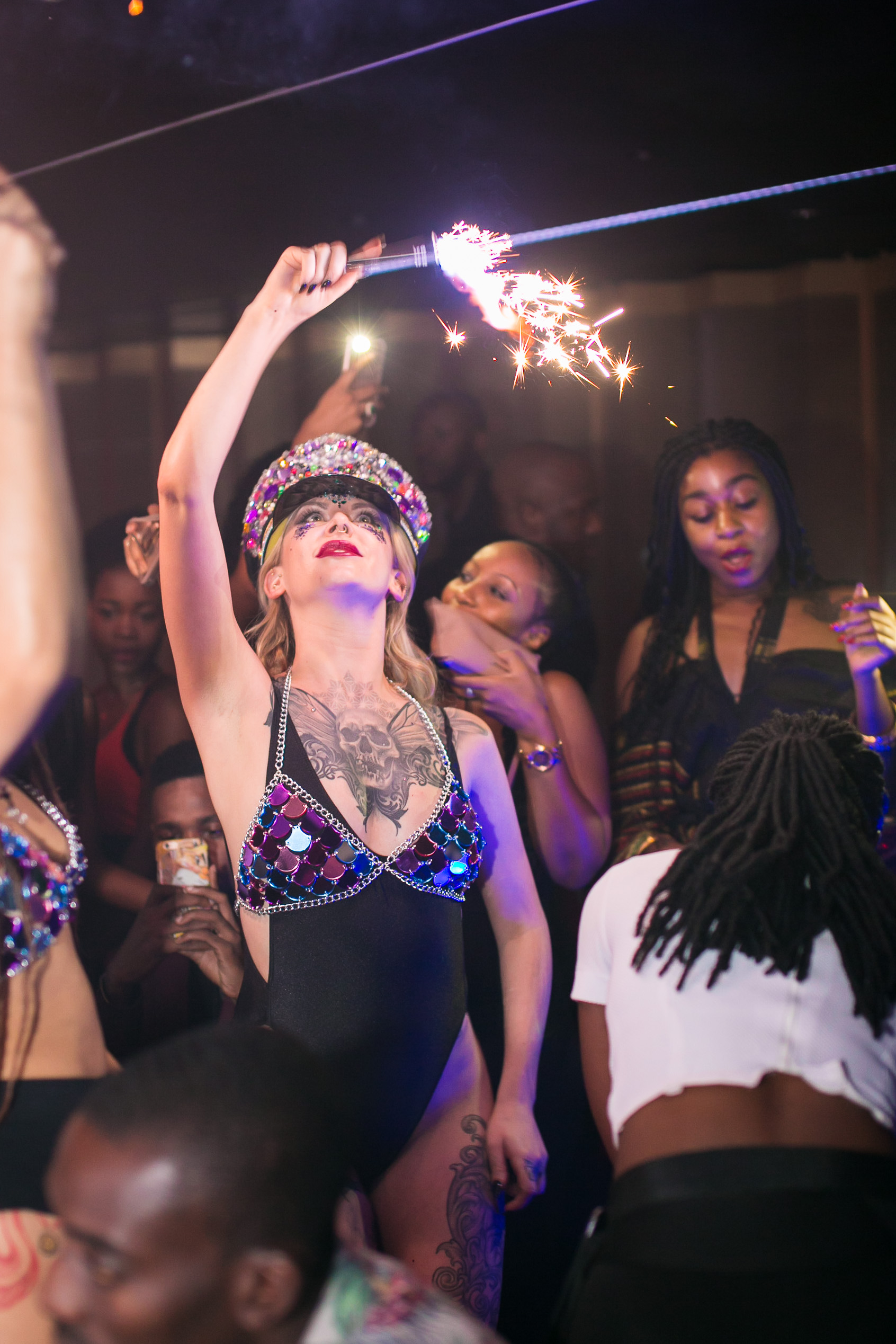 Images by Foto Depo Ghana
Hayet Rida
Body Positive fashion and lifestyle blogger.