The Kuenyehia Art Prize
The Kuenyehia Art Prize is an initiative of the Kuenyehia Trust for Contemporary Art that aims to further highlight the growth of the art ecosystem in Ghana. The founder of the prize, Elikem Kuenyehia said "It is great to see diverse artists in the third instalment of the prize. All the finalists are winners having come this far but we are truly proud of Isaac Opoku for achieving this accolade. We hope to see more outstanding artists in Ghana's art renaissance."
After a rigorous judging process, Isaac Opoku came out triumphant as the winner of this year's Kuenyehia Prize for Contemporary Ghanaian Art. He was crowned the winner at the awards ceremony held on Thursday, 6th April at The Octagon, Accra Central. Theresa Ankomah and Andrews Torsu were named 1st runner up and 2nd runner up respectively.
Below is Issac Opoku, the talented winner!
More images from the event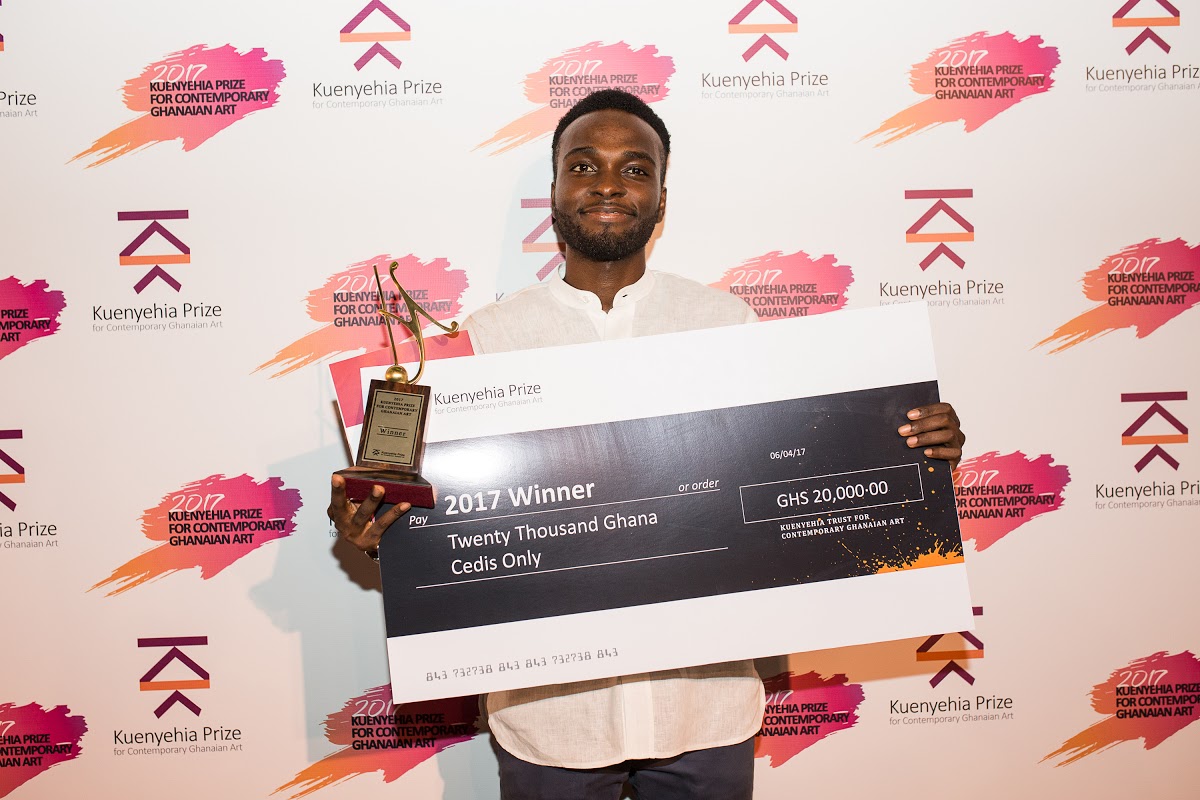 The impressive jury presided over by acclaimed artist and scholar Professor Ablade Glover, comprised Dr. Dorothy Amenuke, an artist and educator at the department of Painting and Sculpture, Kwame Nkrumah University of Science and Technology(K.N.U.S.T.); Rania Odaymat, a curator, artist and stylist; Karim Ibrahim, an entrepreneur and collector; and South African artist Richard Scott.
Besides the winning prize money and art materials valued at GHS20,000, Isaac Opoku along with all the shortlisted artists over the three seasons of the Kuenyehia Prize stand to benefit from personal development and business coaching which is a core objective of the prize. This season's development sessions will be spearheaded by management consultant, Ruka Sanusi and UK based artist, curator and BBFA Collective founder Enam Gbewonyo.
Founded by Elikem Nutifafa Kuenyehia in 2014, the objective of the Kuenyehia Prize for Contemporary Ghanaian Art is to identify, reward and help develop Ghana's outstanding artists between the ages of 25 and 40. Nominations are submitted each year, and the prize is judged by an independent jury. Ten artists are shortlisted, with an overall winner and two runners-up selected by the Jury. The Prize provides tailored mentoring, personal development and business coaching to help develop the artists and their practice.
To read more about the Kuenyehia Prize go to: http://www.kuenyehiaprize.org/
Hayet Rida
Body Positive fashion and lifestyle blogger.